This is your last chance MET Opera Free – The Durango Herald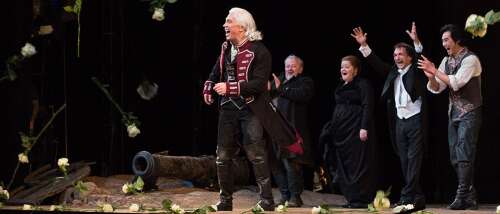 Russian baritone Dmitri Hvorostovsky performs in "Trovatore". Hvorostovsky died in 2017 at the age of 55 from a brain tumor. (Courtesy)
My column (filed in J'sFiles / OPERA / 2021.Last.MET.Stream) for Wednesday. July 21, 2021
The last week of free nighttime opera broadcasts from the Metropolitan Opera is upon us. The free part disappears after Sunday.
After 70 weeks and 112 different operas, the MET's free and streaming performance series has reached the end of a great experience. It was a huge success as the MET was broadcast to over 21.2 million viewers in 152 countries. But after Sunday evening, there will be fees. For a limited time, a special reduced rate of $ 99 will be available. Afterwards, this popular program will cost $ 149.
WHAT: Nightly Met Opera Streams, a free series of Met Live productions in HD yet.
WHEN: 5:30 p.m. now to Sunday.
OR: www.metopera.org.
ADMISSION: Release.
Fans of local opera may have seen some of this week's productions broadcast live at Fort Lewis College on Saturday mornings when The MET Live in HD was a standard feature of our cultural scene.
Here is the program for this week:
Wednesday: "Les Pêcheurs de Perles" by Bizet, with Diana Damrau, Matthew Polenzani, Mariusz Kwiechien and Nicolas Testé, in a production designed by Penny Woolcock. Based on a live performance on January 16, 2016.
Thursday: "Les Contes d'Hoffmann" by Offenbach with Erin Morley, Hibla Gerzmava, Kate Lindsey, Vittorio Grigolo and Thomas Hampson, in a production by Bartlett Sher. As of January 31, 2015.
Friday: "La Fille du Régiment" by Donizetti with Natalie Dessay, Felicity Palmer and Juan Diego Flórez, in a production by Laurent Pelly. Since April 26, 2008.
Saturday: "Il Trovatore" by Verdi with Anna Netrebko, Dolora Zajick and Dmitri Hvorostovsky, in a production by David McVicar. As of October 3, 2015.
Sunday: "Un Ballo in Maschera" by Verdi, with Sondra Radvanovsky, Marcelo Alvarez and Dmitri Hvorostovsky, in a production by David Alden. Since December 8, 2012.
The MET facilitated access to operas. Go to the general website, www.meopera.org, and click on Watch Now under the title: Nightly Opera Stream. The operas air every evening at 5:30 p.m. and include a short introduction. Each night's opera is also available until 4:30 p.m. the next day.
Among the many reasons to hook up, the great Russian baritone, Dimitri Hvorostovsky, appears in "Trovatore" and "Maschera". He died on November 22, 2017, at the age of 55, after battling a debilitating brain tumor. He had a 20-year career at the MET and gave more than 180 performances singing Germont in "La Traviata", as well as the title roles of Don Giovanni, Rigoletto and Eugène Onegin. With his brown tone, white hair and unmistakable manhood, Hvorostovsky always gave a memorable performance. In this week's covers he will sing Count Anckarström in "Maschera" and Count di Luna in "Trovatore".
Judith Reynolds is an arts journalist and member of the American Theater Critics Association.