The South Shore homeless service organization plans to convert a hotel shelter into permanent housing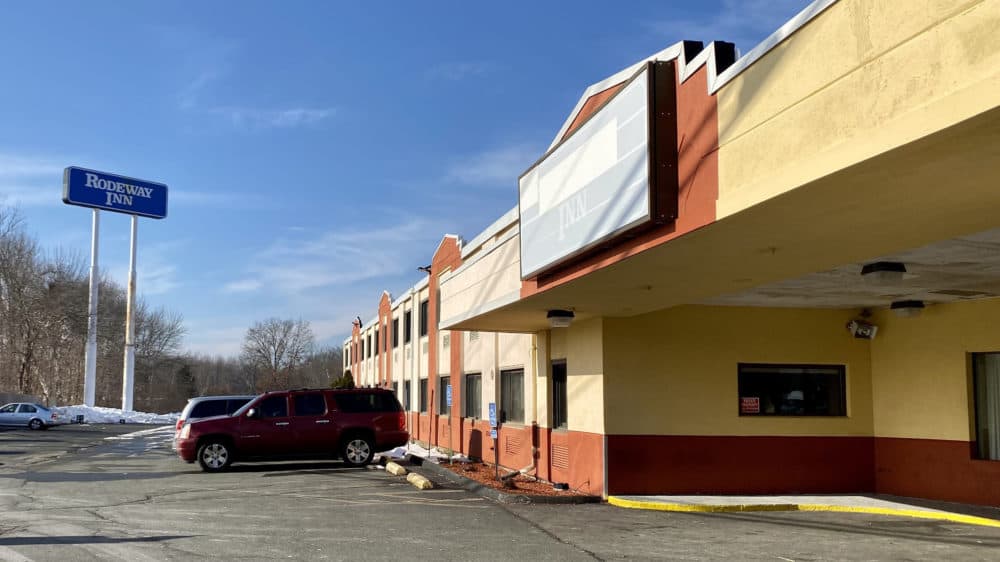 A South Shore homelessness service organization is taking a step forward, hopefully setting a trend in efforts to end chronic homelessness.
Father Bill's & Mainspring is purchasing a hotel in Brockton which it is currently renting as additional shelter space to keep its guests as dispersed as possible during the pandemic. It will convert the old Rodeway Inn into permanent supportive housing for the homeless.
Around 70 homeless adults are currently staying at the hotel. But they may soon be calling it their permanent home – with rental housing and support services to help them meet their medical, mental health, financial and employment needs.
John Yazwinski, president and CEO of Father Bill's & Mainspring, said the organization has signed a buy and sell agreement on the property and is asking the state for funding to transform the rooms in the building into 69 studios.
"Projects like this, when you do it with the state in a normal year, could take two to three years," Yazwinski said. "We will try to do that in less than a year. Our game plan at the moment is therefore… we hope to acquire the property by the end of the winter, start the renovations and convert it to permanent housing, hopefully. – it, by the end of spring. "
The project is expected to cost around $ 9 million, or about $ 140,000 per apartment, according to Yazwinski. That's about half of what it costs to develop typical affordable housing in the Boston area.
Government dollars would come from a special round of housing finance announcement in response to the pandemic. Loans and private fundraising would cover most of the rest of the project costs.
Lyndia Downie, president and executive director of the Boston Pine Street Inn Accommodation and Housing Organization, applauds the move.
"It's a faster, cheaper way to find accommodation for singles who really have almost no options in what is still a pretty expensive market," Downie said.
Pine Street has housing development projects underway. He is not currently looking to buy hotels or motels, although he is hotel rental as additional shelter space due to distancing restrictions. But Downie said it was a potential role model for the future.
Converting hotels could be a benefit of the economic downturn, according to Joyce Tavon, senior director of policy and programs at the Massachusetts Housing and Shelter Alliance advocacy organization. Tavon said she would like to see other vendors sue him.
"We were hoping that all of us, collectively as a state, would take advantage of this opportunity, where there are kinds of vacant hotels that can be put on the market – so that we can use them as shelter and then convert them into housing. supervised on a permanent basis, "Tavon said." There isn't as much going on as we would have liked to see… But we also realize that right now we have to deal with the urgency that lies ahead. "
The emergency of a vulnerable population living in crowded shelters, at increased risk of COVID-19.