The Johnstown Symphony Orchestra moves after six years to Richland Twp. | Lifestyles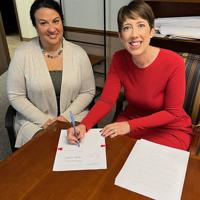 The Johnstown Symphony Orchestra has signed a lease effective June 1 to become tenants of the Johnstown Redevelopment Authority at 416 Main Street. The move of the business and box office to downtown Johnstown is part of a strategic shift to expand the reach of the orchestra's service to neighborhoods throughout the region.
For 31 years, the JSO's performance home has been the Pasquerilla Performing Arts Center on the Richland Township campus of the University of Pittsburgh in Johnstown, and it will remain the anchor of their performance activities.
Beginning June 1, the JSO will have a firm footprint in two key neighborhoods with their retail and box office operations in the vibrant downtown community of Johnstown and their performance venue in Richland Township.
The JSO joins nonprofits Cambria Regional Chamber, Vision Together 2025, Visit Johnstown and Junior Achievement in the redeveloped space at 416 Main St., formerly the Embassy Theatre. The renovation of the space was completed by the Johnstown Redevelopment Authority and is part of their ongoing efforts to reuse city spaces for meaningful use.
The JSO ticket office is on the second floor and is accessible to the public via the stairs just to the left of the street entrance on Main Street, or from the elevator on the alley just beyond the street entrance . Those with questions are encouraged to call 814-535-6738 for assistance.
Executive Director Jessica Satava said, "We couldn't be more excited to help spur the progress that is happening in our downtown. The Board, James Blachly and I all agree that this decision is the right next step in expanding our service to the community, and we look forward to getting even more involved in the movement towards before the town of Johnstown. Personally, I am thrilled to be surrounded by the passion and creativity of the teams that work at 416 Main, and I know this will lead to increased collaboration. When I arrived in Johnstown, the first story I heard was about the 2016 JSO concert at Cambria Iron Works, which was produced in partnership with Melissa Komar and the Johnstown Redevelopment Authority team. It's almost poetic to be part of another success story as we all work to support the vibrancy of our city.
Johnstown Redevelopment Authority Executive Director Komar said, "We are thrilled to see another key organization in the area moving its business operations downtown! It will be amazing to have the JSO with us on Main Street, and we look forward to all opportunities for collaborative service together.
On the Johnstown Symphony website, patrons can purchase concert tickets and learn how to participate in JSO ensembles including the Symphony Chorus, Johnstown Symphony Youth Orchestra, Inclined to Sing, Community Strings and Share the Music.