The conductor does not want to admit a jazz clarinetist to the orchestra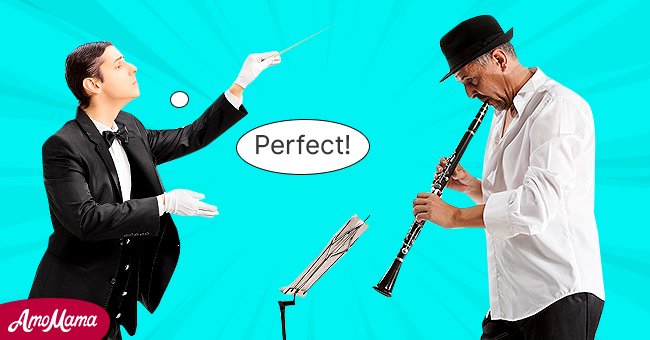 A conductor would assemble an orchestra for a performance he had planned to have at the end of the month. However, he was having trouble finding a clarinetist.
After several days of looking for a musician himself, he finally comes into contact with an entrepreneur. The entrepreneur explained, "I only have one guy available at the moment, and he's a jazz clarinetist."
The conductor sighed and said, "I can't stand working with jazz musicians. They dress badly, they are always late, and they usually have an attitude problem, plus they always have so much to do!
"Well," said the entrepreneur, "he's the only clarinet player I have on my list."
The conductor was getting pretty desperate, so he said, "Okay, I guess I'll have to take him. I'd rather have a jazz clarinetist than none." A week later, the conductor held his first rehearsal.
He arrived early and noticed that the new clarinetist was wearing a chic, brand new suit and tie, with a pencil on his stand, and was sitting on the stage rehearsing his piece.
During the rehearsal, the clarinetist played very well and was responsive to all of the conductor's instructions. Also, the same thing happened in the second rehearsal, but this time the clarinetist played almost perfectly.
A week later, during the dress rehearsal, it happened again, with the clarinetist playing his role perfectly. The conductor was very impressed and started to feel bad about his previous assumptions.
So during the break, the conductor addressed the orchestra: "I have to apologize. I dreaded having to work with a jazz musician, but I have to say that our clarinetist really got into it and completely proved me wrong.
Addressing the clarinetist, he said, "I have to apologize because you really blew my expectations."
The conductor continued, "You came here very early for all the rehearsals, you played your part beautifully and you really showed team spirit. I want to tell you that I really appreciate your efforts and dedication. "
The clarinet player replied, "Hey man, that's the least I can do since I can't attend the show."
If you liked this musical joke, check out this joke about a man who revealed the truth behind his special group of musician dogs and cats.
Source: joke.