Plano West Symphony Wins 9th State Competition, But For Conductor It's More About The Beauty Of Musical Creation | Plano Star Courier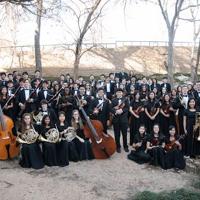 The Plano West Senior High School Symphony Orchestra won its State Champion title in the Texas Music Educators Association (TMEA) Orchestra Honor Competition for another year, placing first in the state for the orchestra category full high school.
Conductor Ryan Ross submitted recordings of his orchestra's performance at UIL (University Interscholastic League) last March to a jury, which included pieces such as Academic Festival Overture by Johannes Brahms, the final of the Antonin Dvořák's Symphony No. 9, "From the New World," and the second movement of Beethoven's Symphony No. 8. For the Orchestra Honor Competition, there are two zones: Zone A and Zone A. Zone B. Plano West moved from the first round in the Dallas area (Zone A) to become one of seven finalists in the second round, and from those finalists, a new judging panel named Plano West Senior High (PWSH) the champion.