Opera provides insight into South African consumers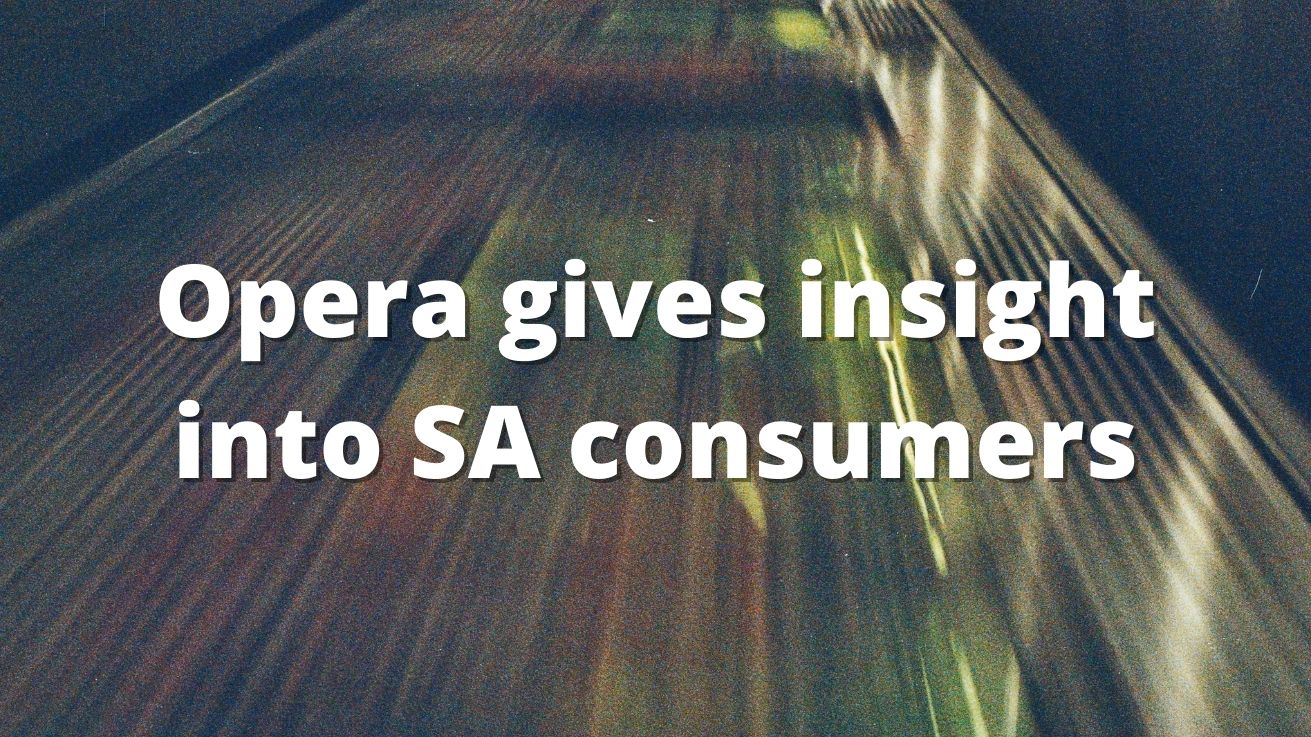 Considering that every penny already counts for millions across the country, it's no surprise that many have found ways to maximize their buying power by choosing their brands wisely.
Opera South Africa recently conducted a survey of millions of South Africans through its user base to uncover shopping habits and behaviors. This was to provide brands with insight into how to reach them more often. This is the second such survey, having already been undertaken in 2020.
The survey covered categories ranging from finance to consumer products, telecommunications to broadcasting.
Banking
Of particular interest, the survey revealed that 75% of the sample have a bank account, the bank percentages are as follows:
Capitec has the highest number of members with 54%
ETF has the second highest with 14%, and
Standard Bank comes third with 10%.
Bank accounts are also the most common way to collect a salary (53%), followed by cash (24%) and e-wallet (23%).
A small margin of individuals (16%) have their salary deposited into someone else's bank account.
Fast-moving consumer goods
According to the survey, when it comes to FMCG, Shoprite was the clear favorite with 38% of the sample preferring to shop at this retailer. This has been compared to:
Pick n Pay standing with 23%
Spar with 16%, and
Ladies at 9%.
The survey also revealed that shoppers visit their store of choice once a month (27%) or once a week (24%), with only 9% shopping daily.
Food prices are likely to rise due to global shortages, as well as the price of fuel, which also affects the transport of goods. The report shows that we can expect to see more consumers turning to retailers that offer the best value for money.
This is backed up by survey statistics revealing that nearly 50% of users buy from outlets because of the most affordable prices.
Telecommunication
Telecommunications was another interesting category, especially when it comes to data usage. The majority of respondents (59%) prefer to convert airtime to data, a 10% increase from 2020.
The use of a USSD chain to purchase data increased from 13% to 12%, while the purchase of vouchers increased from 15% in 2020 to 18% in 2022. vendor application doubled from 5% in 2020 to 10%. in 2022.
Surprisingly enough, given how cost-conscious consumers are, only 41.5% were aware of special offers on data plans; this is when the majority of the sample are MTN and Vodacom subscribers.
The survey showed that 34% perceive Telkom as offering the best data among telecom providers, when in fact Cell C offers the lowest rate. This demonstrates that the price is down from the Opera 2019 report on the state of mobile in Africa.
Comparing the data from 2019 and 2020, it is interesting to see the evolution of purchasing behavior. There is a real opportunity for telecom operators to focus on consumer desires for data savings.
The conversion from airtime to data usage has experienced a slope. This is attributed to working from home in the wake of the pandemic coupled with the preference for using WhatsApp as a means of calling. Taken together, this means that data, and the way it is packaged for our daily lives, really matters to us as consumers.
Once data is purchased, users use it to:
browse the web (22%)
use WhatsApp (65%)
email (48%)
access news apps (43%), and
playing games (14%).
Interestingly, whatever Opera users choose to do with their data, they only spend an average of 22 minutes on their browser each day doing it. This compares to the three hours and 30 minutes a day that the majority of South Africans spend connecting to their mobile.
This is aimed directly at maximizing data usage. In South Africa, compared to the average earned income per day of R200, data is very expensive at around R78 per gigabyte. This compares to international territories where data revenues/costs are more aligned.
The retention rate of users returning to the mobile web versus the app, however, appears to be increasing over time. This underscores the importance for marketers to rethink the "mobile web" when reaching their consumers instead of just focusing on the app environment.
It is evident that the mobile web remains extremely popular among the mass market of data-conscious individuals.
Diffusion
When it comes to broadcasting in South Africa, among DSTV, Netflix, Showmax, Amazon Prime and Disney, the overwhelming majority (81.5%) prefer DSTV as the broadcaster of choice.
Watching TV remains a top pastime for Opera's user base, and while payment can be made through an app or online, 35% prefer to pay for the service at an in-store kiosk.
This suggests an affinity with the tangibility of a physical environment and, most likely because more than half of respondents who do not have a bank account, receive their salaries in cash.
When it comes to choosing what to watch, the majority use social media as a way to receive news about popular shows or movies (41.5%). She is closely followed by:
paid advertising (40.3%)
radio (4%) and
billboards (2.3%).
It is clear from this information that consumers use their mobile phones to browse, search and access content for a relatively short amount of time each day. This is due to the reduction in the cost of data usage.
For brands to reach this audience, it's essential to be active online where their users are. Statistics suggest that the peak hours of the day for serving ads are between 7:00 p.m. and 8:00 p.m.
For more information, visit www.opera.com. You can also follow Opera on Facebook, Twitter or on Instagram.
South African Opera South African consumers Sarah Utermark Bank SA S.A. Telecommunications SA Broadcasting SA FMCG