Future ! Originality reigns in Ballet Vero's "Symphonic Dances" – 32963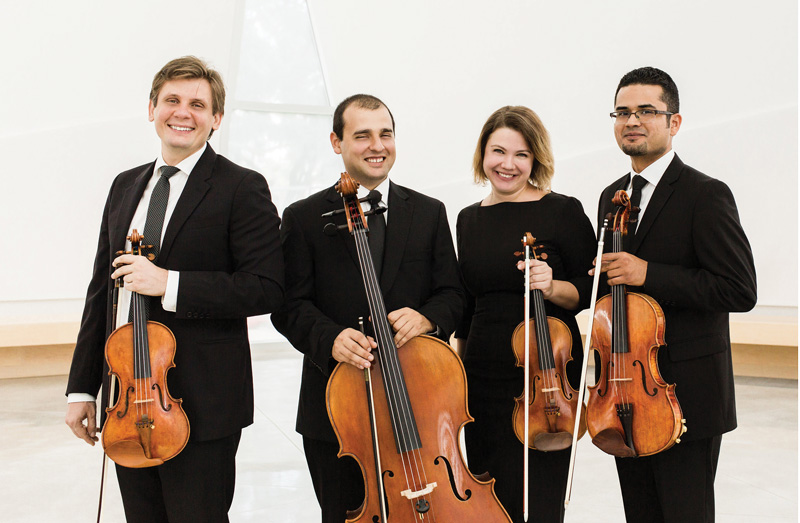 Konverjdans returns to the area to dance with Ballet Vero Beach's "Symphonic Dances" program this weekend. The program includes the "Pastoral Symphony" by artistic director Adam Schnell as well as a world premiere of dance by Camilo A. Rodriguez. Working with Beethoven's grandiose Sixth Symphony, his so-called "Pastoral Symphony", Schnell explores memory, reality and an 18th century world revealed in costumes and characters. Rodriguez's ballet is set to Bizet's neoclassical "Rom Symphony." Schnell promises the program will be big and bold. "'Symphonic Dances' presents what Ballet Vero Beach does best: original choreography danced by exceptional artists," says Schnell. "The program is not only entertaining on a surface level, but like all performances by Ballet Vero Beach, the works can be seen on a deep and engaging level." Vero Beach Ballet presents "Symphonic Dances" at 7:30 p.m. Friday, February 25 and Saturday, February 26. A matinee will take place on Saturday at 2 p.m. Tickets cost between $10 and $75. A shorter accessible/family performance begins at 2 p.m. on Sunday, February 27. This more informal program includes modified audio-visual effects and allows easy access for all abilities. If time permits, there is also the possibility of a Q&A session and photo opportunities with a dancer. Tickets for accessible/family programs are $10. You can also stream the program online. Performances will be held at Vero Beach High School Performing Arts Center, 1707 16th St. Call 772-905-2651 or visit BalletVeroBeach.org.
The chamber music series returns to the First Presbyterian Church in Vero Beach. The next concert will feature the Con Brio String Quartet, performing at 4 p.m. on Sunday, February 27. Con Brio will feature Valentin Mansurov, Marina Lenau, David Pedraza and Aziz Sapaev. The young musicians are based in Southeast Florida and perform individually with the Symphony of the Americas, Palm Beach Symphony and Florida Grand Opera. The rest of the season will feature Duo Beaux Arts on March 13, the Gainesville Brass Quartet on March 27, and Russian soloist Sergey Belyavsky on April 3. Tickets are free but a $10 donation is suggested. Concerts are held in the sanctuary of Vero Beach's First Presbyterian Church, 520 Royal Palm Blvd. Call 772-562-9088 or visit FirstPresVero.org.
The Vero Beach Museum of Art presents "The Life and Legacy of Peggy Guggenheim" with Karole PB Vail, Director of the Peggy Guggenheim Collection in Venice, Director of the Soloman R. Guggenheim Foundation in Italy and Guggenheim's granddaughter. Guggenheim's impact on the arts and especially on modern art cannot be overstated. Her motto was "buy one picture a day" and she certainly succeeded. The Guggenheim Collection contains works by the most esteemed modern artists. Vail will talk about the women who, like her grandmother, played an important role in the defense of 20th century art. The lecture is part of the museum's 2022 International Lecture Series and begins at 4:30 p.m. on Monday, February 28. Only simulcast seats are available. The cost is $80 for museum members and $95 for non-members. The museum is also presenting its "VBMA Faculty Open House" from 10 a.m. to 2 p.m. on Saturday, February 26. The open day will take place in the studios of the art school. On this day, you can also benefit from a 10% discount on lessons. The Vero Beach Museum of Art is located at 2001 Riverside Park Dr. Call 772-231-0707 or visit VBMuseum.org.
To live! from Vero Beach presents Jonathan Edwards and Livingston Taylor in concert at 7 p.m. this Thursday, February 24 at the Emerson Center in Vero Beach. Taylor's top 40 hits include "I'll Come Running". Tickets cost between $35 and $90. If you go online and enter the code "CCIRC" when purchasing a ticket, a portion of the proceeds from that ticket will help fund the Indian River County Cultural Council. The Emerson Center is located at 1590 27th Ave. Call 800-595-4849 or visit MusicWorksConcerts.com.
The Indian River County Sheriff's Office will host the 28th Annual Florida Young Sheriffs Ranch BBQ on Wednesday, March 2. There will be pork or chicken dinners and hot dogs for the little ones. Additionally, there will be entertainment, K-9 and SWAT demonstrations. Admission is $7 general and free for children under 5. Proceeds help fund the Florida Sheriff's Youth Ranches, which serve the needs of troubled and neglected children. The event runs from 2:00 p.m. to 7:00 p.m. with opening ceremonies at 3:00 p.m. It will be held at the Indian River Fairgrounds, 7955 58th Ave., Vero Beach. There is free parking and a free shuttle service. Call 978-6404 or visit IRCSheriff.org.