Free ballet production 'Rita Finds Home' debuts at Navy Pier | Latin Voice | Chicago News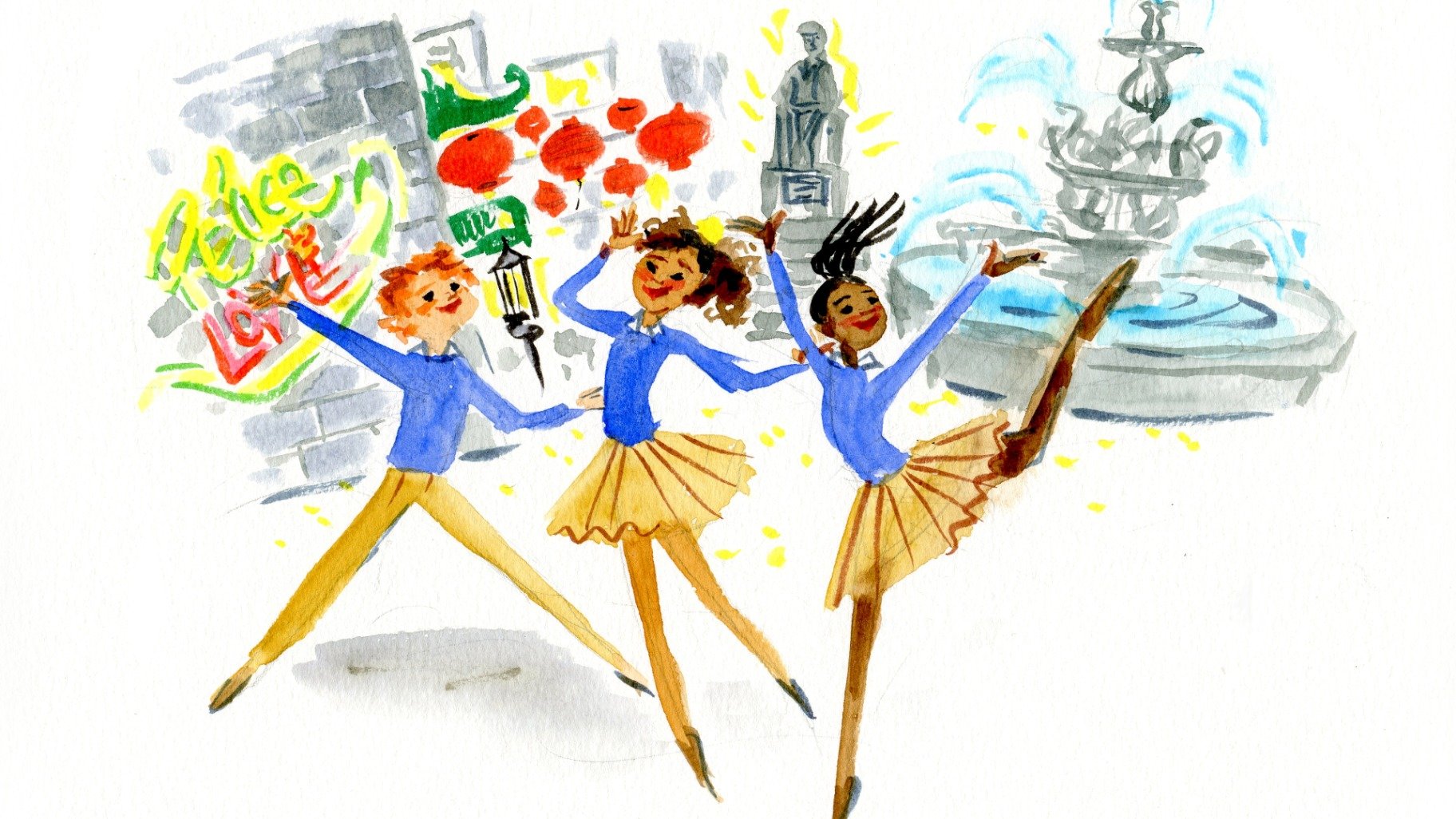 "Rita finds her home" illustration by Elisa Chavarri.

A new ballet production debuted July 9-10 at Navy Pier Lake Stage. "Rita Finds Home" is a family production from a collaboration between Joffrey Ballet and Miami City Ballet telling the story of a young artist who is swept away from her tropical island by a hurricane and must rebuild her life in Une big city.
The all-female creative team included choreographer Amy Hall Garner, children's book author Elisa Chavarri, and Chicago-based author and theater director Karla Estela Rivera.
Latino Voices: How did this project start and what was the inspiration behind Rita's story?
Funny enough, this project started to percolate in 2019 when the Joffrey's Community Engagement Manager, Erica Lynette Edwards, and I met at a conference in Galesburg, Illinois. As we got to know each other, she discovered that I was a singer/songwriter with a background in arts education and asked me if I would be interested in writing a play for young audiences. I said, "Sure, but just so you know I don't know anything about ballet." To which she replied, "But you're a storyteller, aren't you?" That's all you need.
So when I started writing this story, I dug deep into the different facets of my own experience and the experiences of my community, and thought a lot about what it was like to be an island kid growing up in Chicago. Also, in 2019, two years had passed since Hurricane Maria devastated the island of Puerto Rico, where I was born and where I still have family. It was a moment that mobilized the Puerto Rican community here in the United States, as so many families were displaced in the wake of its destruction. Chicago was one of the welcoming cities where many families arrived. I knew I wanted to somehow honor that experience, and do it through the lens of a child.
I also wanted to celebrate Chicago. One of the wonderful things about growing up in this city, and especially growing up in the community of Albany Park, is that I was able to experience the world within a two-mile radius of my front door. Being immersed in this education allowed me to find my people, my chosen family. Together we learned what it meant to grow up in this country in the most beautiful and frustrating way. To this day, we lean on each other, we debate, we raise our children, our pets, and our plants together. Their moms are my moms. I think my life is always richer because of the gifts we bring and the different lenses in which we view the world around us. Also… FOOD.
This is part love letter to Puerto Ricans, immigrants and migrants who are going through new realities, part celebration of the gifts we all bring and all who struggle to find themselves and their people.
LV: What was it like working in an all-female team?
From the beginning of this process, working with Amy and Elisa was a truly pleasant and natural experience. We meet at many intersections of personal life as cisgender women of color in the arts. We share similar challenges and struggles within our own artistic disciplines in the sector, and we all litter our careers, parenthood, the pandemic, navigating the challenges of this country in the skin and bodies in which we find ourselves, and all the things that our personal lives bring to us. These shared experiences helped provide levels of understanding and bonded us as human beings in addition to respecting each other's individual expertise as artists.
We trusted each other from day one and included each other every step of the way. There was great attention. Is it unique in an all-female team? Not necessarily. But, I think I can speak for the three of us when I say we all knew we wanted to create work that affirms every part of what we stand for and how we present ourselves in the world. What came out of it was something beautiful.
LV: Why make this performance free to the public and take it out to parks?
I am the product of free, public arts programming in the city of Chicago. Park District country houses were places of gathering, summer camps, dance parties and refuge. As a teenager, I was among the first cohorts of Gallery 37, paid to write plays with artists from the Pegasus Theater and news articles for New Expression (a teen-run publication where I eventually served as head of the North Side office in the mid-1990s). These experiences provided fundamental opportunities that my single mother (who at the time was working full-time as a social worker while pursuing her doctorate) could not afford.
It is also important that the public recognizes itself in the work presented. And while the locations aren't specific, "Rita Finds Home" is an island girl story, told by an island girl who grew up in the town over 3,000 miles away, and the creative team also reflects the many experiences of our collective communities. Face. I remember feeling seen in the artwork. It feels good. It is healing. It signals belonging, and our sector must ensure that we create as many pathways as possible for people to belong, regardless of your race, gender, sexuality, ability, cultural background or zip code.
---