Children get a preview of Longhope Opera's L'elisir d'amor before opening night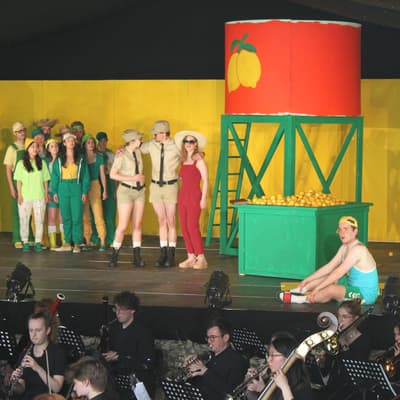 Longhope Opera in Newton Valance near Selborne, hosted a group of schoolchildren and MP Damian Hinds to attend a final dress rehearsal of Donizetti's opera, The elisir of lovetonight (Friday) – ahead of two public performances this weekend.
The children's visit to Hurst School in Tadley was organized, free of charge, in partnership with Hampshire Music Service.
It came ahead of performances by the London-based Scherzo Ensemble, a collective of 60 young performers at the dawn of their careers, this Saturday and Sunday evening. Tickets are still available.
Scherzo Ensemble Artistic Director Matthew O'Keefe said: "Our vision is to create exciting new productions accessible to all, and our children's performances have become a highlight of our time at Longhope.
"A lot of kids have never seen opera before and it's such a treat to see their faces light up when they realize how fun and entertaining it can be.
"L'elisir d'amore is a very funny opera with exciting and beautiful music. It all takes place in a small town square and follows a simple love story that is made much more interesting when cheap wine is mistaken for a potent love potion."
MP Damian Hinds praised Longhope Opera for providing such an "enriching experience" for young children who may not have had the opportunity to watch "a level of art and expression far beyond any something else".
He added "what's so special about this show is the fact that all the performers are under 30", and expressed his hope that "more children will be able to attend a show year round. next ".
This is the third summer that Hamish and Lindy Janson have hosted public performances by the London-based Scherzo Ensemble, a registered charity, in the gardens of their Longhope estate since 2019.
Longhope Opera is now the centerpiece of Scherzo's annual program for emerging artists, bringing young performers and creatives from across Europe to the village of Newton Valencia to create new and inspiring productions.