Chicago Symphony Orchestra beats its golden horns in triumphant return to concert | Chicago News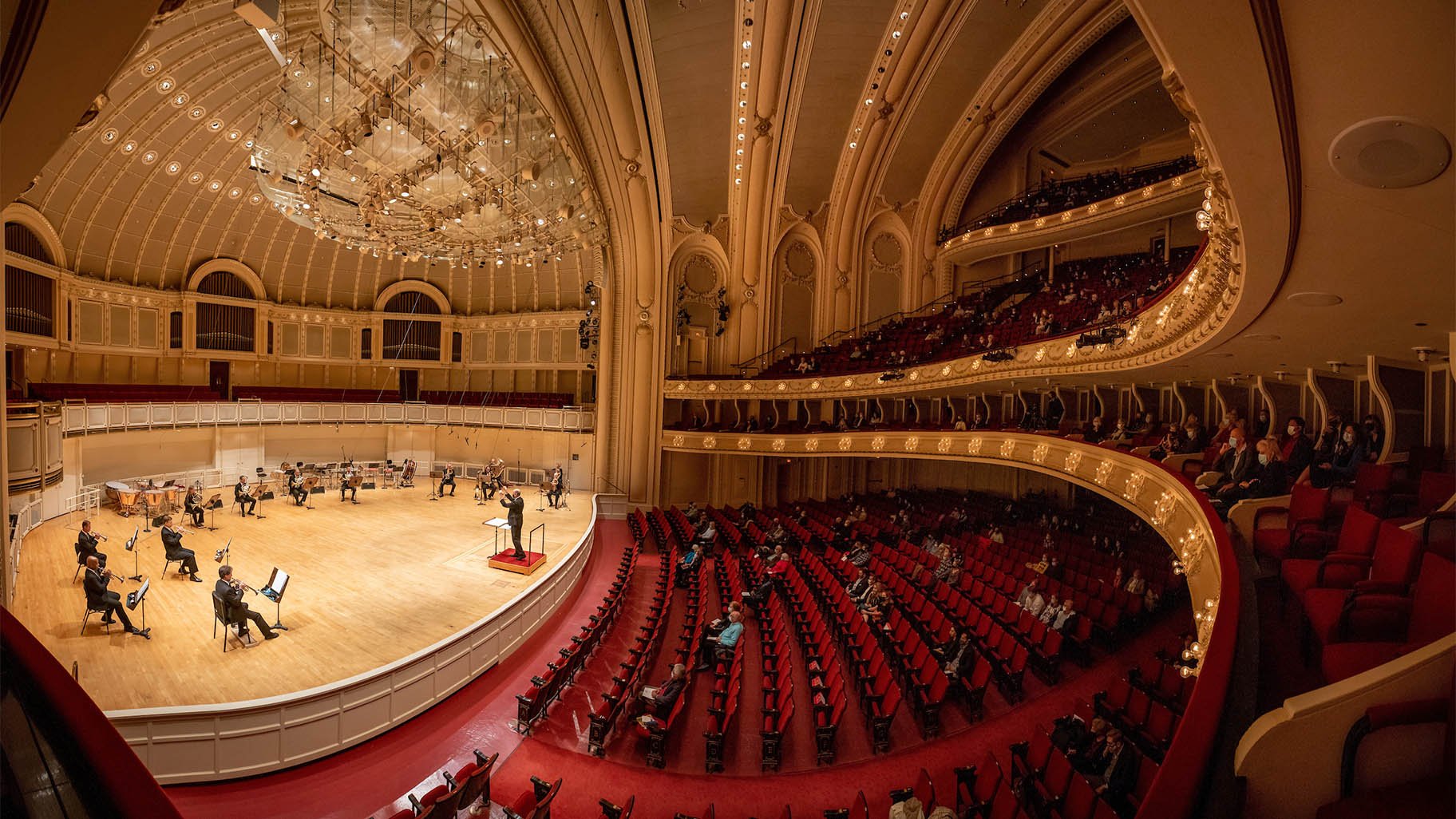 A socially distant audience with reduced capacity listens to the sounds of the CSO's brass instruments during the concert that marked the return of the concerts of the Chicago Symphony Orchestra, on May 27, 2021 (Courtesy Anne Ryan)

The feeling of pure elation was palpable Thursday night as members of the Chicago Symphony Orchestra took the stage to give their first concert in front of a live audience in over 14 months.
The orchestra, like the audience, has been reduced in size (around 20 musicians in various combinations, as well as a number of guest artists), with only its fully gilded brass and percussion sections positioned in a large half- circle on the Orchestra Hall stage of the Symphony Center. But their sound was as full and beautiful as ever as they played a meticulously chosen program of works by five American composers (all under the umbrella title of "Fanfare") which in turn heralded a triumphant return and evoked the emotional turmoil of the world. pandemic era. The evening's expert conductor was Michael Mulcahy, a CSO trombonist for more than three decades.
There could not have been a more ideal opening than the brief but catchy "Fanfare for the Common Man" by Aaron Copland with its first hit of the timpani followed by the blazing sound of the horns. Written in 1942 in response to the United States' entry into World War II, it now suggests optimism and a determination to continue after the many losses from the pandemic.
It was followed by the fascinating, intensely difficult, changing and all too rarely heard work of Gunther Schuller, "Symphony for Brass and Percussion", an ideal showcase for this gathering of musicians.
The four-movement work, dating from 1950, is set in motion with a dissonant opening crash before transforming into a solemn and mysterious sound that now seems tailor-made to suggest the eerie emotional chaos of the past year. with the use of many and varied. brass voices. It was also a reminder that while string and wind instruments are often said to echo the human voice, the power of human breath (if compromised by COVID-19), is of the essence in the brass section. . The piece's Vivace movement is alternately playful and wild with its eccentric rhythms and riffs, while the third movement has a haunting overture and distanced sound that suggests a sad sense of isolation. The final Allegro movement opens with a breath of percussion, the brass generating a constantly restless and memorable state in this fascinating, yet utterly accessible modernist work.
Next came the aptly titled "Mutations from Bach" by Samuel Barber, which ideally combined Barber's gift for non-sentimental lyricism and Bach's unique ability to blend impeccable structure with a deeply respectful yet joyful spirit. Beautiful and beautifully played.
It was followed by "Street Song for Symphonic Brass," a 1988 piece (entirely new to me) by Michael Tilson-Thomas, who is best known as a conductor. A wonderful surprise that begins with its own form of fanfare, it is full of stops and starts and counterpoint sequences. In richly lyrical and subtly romantic moments, it evokes a seductive calm awakening even if it is accented with notes of jazz and dissonance. A completely captivating piece, it let me think that, in the hands of the choreographer on the right, it could also serve as a wonderful score for a contemporary ballet.
Closing the program (which lasted just over an hour, with no intermission for security reasons), was the conveniently titled Presto barbaro (Fast and Barbarian) section of the music from Leonard Bernstein's film for "On the Waterfront," with its memorably brutal evocation. of life among the longshoremen and gangsters of New York in the 1950s. Bernstein's formidable theatrical sense is at work here, with powerful percussion riffs and an overall sound explosion that ideally suggests a violent environment.
A richly adorned version of the familiar song "Happy Birthday" (arranged by Timothy Higgins, composer and trombonist of the San Francisco Symphony Orchestra) served as a little surprise ahead of Maestro Riccardo Muti's 80th birthday on July 28.
This "Fanfare" program (which will be repeated Saturday at 7:30 p.m. and Sunday at 3:00 p.m., but is already filled to its limited capacity), is the first of three different concerts, with "Strum" (June 3-6) and "Opening" (June 10-13) to follow. For more details and for tickets, visit cso.org.
And one last note: for those who still prefer virtual concerts, there is the awesome CSOtv Sessions ongoing series which continues in July and is available through www.CSO.org/tv. And of course the orchestra is expected to return to the Ravinia Festival this summer, so visit www.ravinia.org for these tickets.
Follow Hedy Weiss on Twitter: @HedyWeissCritic
---