After 3 firsts, the Va. Nat'l Ballet brings "Snow White" to life | Lifestyles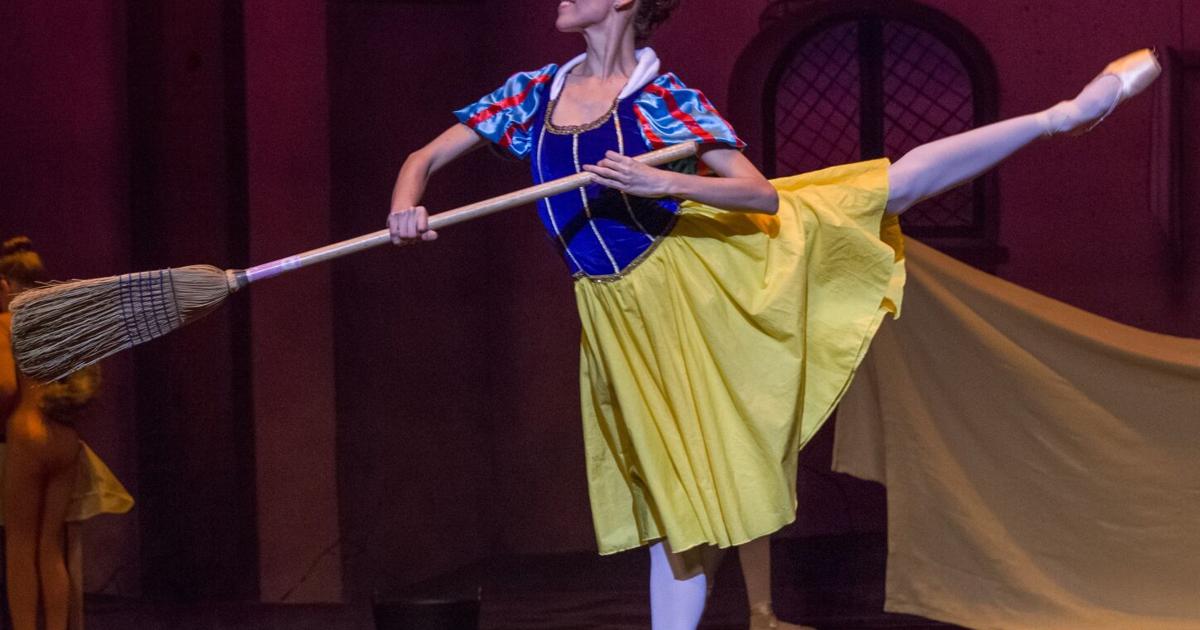 The Virginia National Ballet presented a trio of premieres in February with two performances at the Hylton Performing Arts Center. All were choreographed and directed by Rafik Hegab, winner of the 2019 Seefeldt Award for Arts Excellence as an individual artist.
Now, Hegab and his dancers are gearing up for their next show: Virginia National Ballet's upcoming "Snow White," which will be offered in two performances on Saturday, March 26.
The show was delayed for two years due to the COVID-19 shutdown of live events. Created by Hegab in 2017, the show was last presented to enthusiastic and delighted audiences in early 2020.
Ballerina Saaya Pikula Mason is set to reprise her marvelous performance in the lead role. Mason last performed as Snow White in 2017.
Mason will be joined on stage with delightful forest animals, 3D special effects, endearing and lovable dwarfs, and exquisite dancing – all presenting a colorful fairy tale ending won over by human attention and compassion.
"Snow White" follows Virginia National Ballet's Feb. 26 performance of "3 World Premieres," a compilation that included "Tango Nights," "the Beatles" and "For These We Lost."
"Tango Nights" featured an Argentinian setting and was accompanied by classical jazz and tango music from the 20and Argentine composer of the century Astor Piazzolla. The dance featured three couples depicting romantic and, at times, humorous interactions that could have taken place in any contemporary venue: meeting, encouraging a shy guy to ask a single woman to dance, and a bewitching club dancer to thicken the plot.
"The Beatles" recreated visions and interpretations of seven hits that crossed the band's studio albums. For the public, the result was 21st Century-old, better-than-life scenes with authentic costumes, tie-dye, peace signs, and a mod-like motion suite.
The entire first stage introduced the Beatles era to the audience with "Come Together," complete with bell sleeves and bell bottoms. Dancer Owdrim Kaew skilfully staged the sad "Yesterday" with a flowing, strong dance nuanced by the lighting effects. Dancers Zoe Segura and Jose Alton offered a sultry, youthful pas de deux with "Girl," while Mason and Kaew completed the love trio. songs with a scintillating "something".
The whole company gave a rousing finale combining "Get Back" and "The End" in an album-length track.
Hegab's "For Those We've Lost" expressed the helplessness, grief and loss felt by so many during the COVID-19 pandemic through choreography to music by Max Richter and the captivating "Adagio for Strings " by Samuel Barber, arranged for a choir and retitled "Agnus Dei."
For those whose memories are still raw for the losses of New York and the Pentagon in the 9/11 terrorist attacks, the piece expresses a haunting helplessness. Dressed in ethereal white garments, the dancers moved like angels on earth.
Scenes from "For Those We've Lost" – including a torturous crucifixion, hospital stretchers stopped by overwhelming crowds, the shrouds of nostalgic heroes unable to comfort, and the feet of painful dancers unable to move forward – have evoked powerful emotions. The lighting transformed the dying into budding angels – an uplifting tribute, offering comfort.
After the standing ovation brought him to the mic, Hag/ab shared that the world has collectively experienced so many emotions over the past two years: shock, isolation and melancholy as the virus ravaged communities and families. ; a helplessness felt by friends and family who could not offer comfort; and an admiration for the heroism of emergency responders as the death toll soared to more than one million in the United States alone.
Together, the "3 World Premieres" offered audiences a chance to experience everyday scenarios and life-changing world events. No matter their age or background, each could undoubtedly relate to one or more of the human interactions that took place on stage. As the Beatles sang, "In the end, the love you take equals the love you make." This fits as the show's underlying theme.
Virginia National Ballet, now in its ninth season, was founded by executive director Elysabeth Muscat Hegab in 2013 after she spent 12 years as executive director of Baltimore Ballet. Artistic director Rafik Hegab is a former principal dancer of the Cairo Opera and Ballet. Virginia National Ballet is an arts affiliate of the Hylton Performing Arts Center and a member of the Virginia Commission for the Arts Tour Directory.
Susan Bardenhagen has lived in Manassas since 1981. Born and raised in New York City, she grew up listening to big bands, Broadway musicals, designing costumes and playing the violin since fourth grade. A teacher since kindergarten (according to her mother), she has taught all subjects from grades one through eight, officially since 1974. She has been an active member of the PWC Arts Council for over 25 years and is currently its secretary. She enjoys all artistic genres as a performer and audience member, believing that STEAM-infused education supports lifelong learning for everyone.