A breathtaking night as the CSO soars under the direction of a brilliant conductor and solo violinist | Chicago News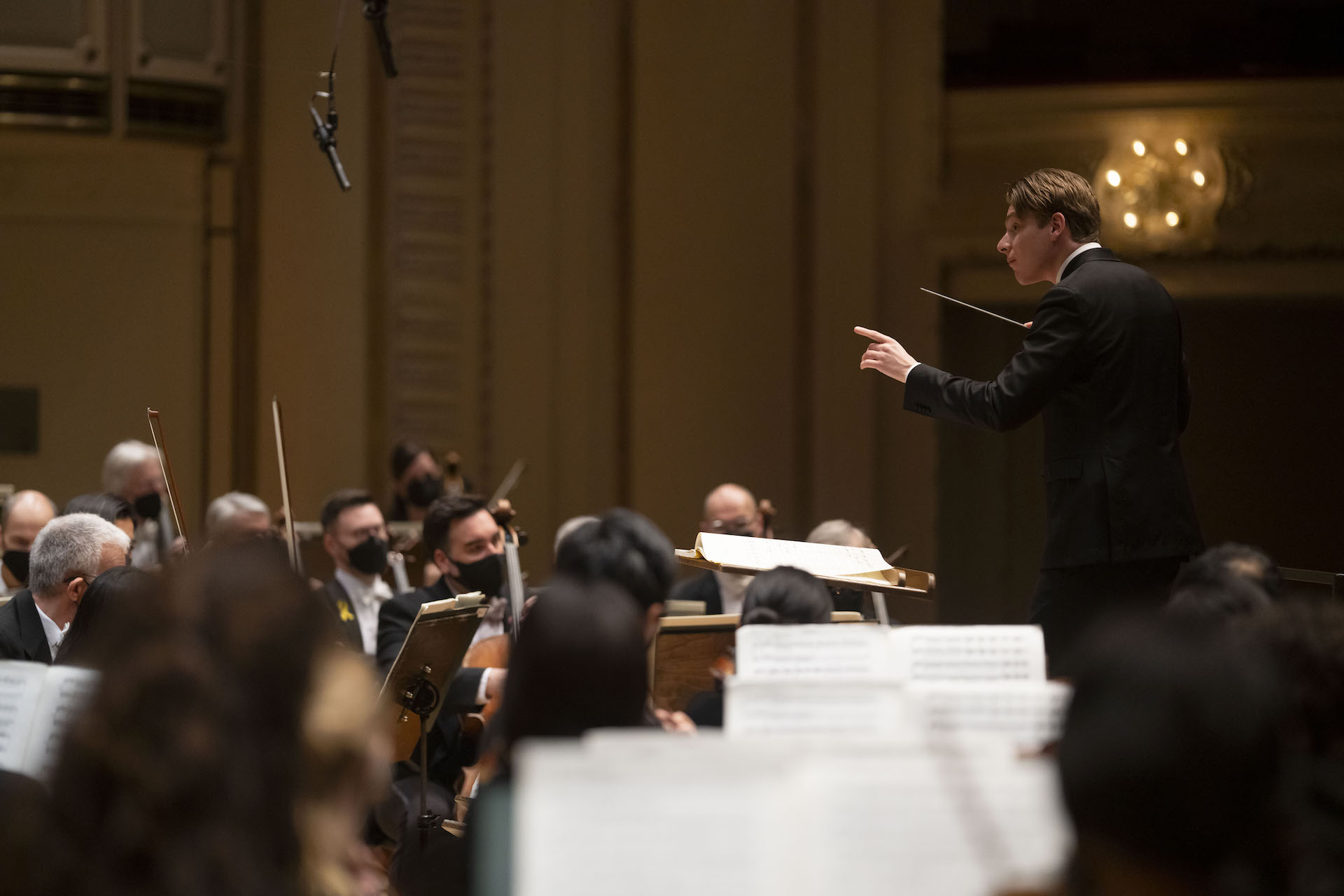 Conductor Klaus Makela performs with the Chicago Symphony Orchestra at Orchestra Hall on April 14, 2022. (Photo credit: Todd Rosenberg)

An utterly thrilling performance took place in Orchestra Hall on Thursday night as the Chicago Symphony Orchestra, in their usual gallant form, played three demonically difficult works (by Prokofiev, Stravinsky and Anders Hillborg) . Simultaneously, the audience was introduced to Klaus Makela, a slim, youthful and dazzlingly sophisticated 26-year-old Finnish-born conductor, and Daniel Lozakovich, a superb 21-year-old Swedish-born violinist, both of which were making their debut. with the OSC.
If you needed to remember the genius of two groundbreaking composers from the early 20th century, or if you were hoping for an introduction to a fascinating contemporary composer, this concert undoubtedly lived up to your expectations.
Plus, if you were ready to welcome examples of stellar young talent that will make classical music thrive, this concert unquestionably did the job.
Like the program itself, let's start with the new one: "Eleven Gates" by Swedish composer Hillborg, a work from 2006 which received its first performance by the CSO. As a program note explains, Hillborg grew up with rock music, became intrigued by electronic music and immersed himself in classical repertoire, and is quoted as saying, "Experience and tradition are not separated, but are constantly intertwined in the composition process. "
Deploying a huge orchestra, including the use of an elaborate range of percussion instruments – from bongos, car horns, glass harmonica and woodblocks to congas, crotales, marimba and more – Hillborg's 20-minute work began with an otherworldly grating sound, grew in volume and turmoil to suggest a great storm, continued to use original rhythms and a great cacophony involving all sections of the orchestra. He created a kind of underworld aura and got into an assortment of percussion. "Eleven Gates" needs to be experienced more than described.
Then there are the two established musical geniuses, who were born in pre-revolution Ukraine and Russia, but during their lifetime they took different paths (one temporary and one permanent) when they originated in Western Europe, the United States. and their homeland.
First, Sergei Prokofiev. His "Violin Concerto No. 2 in G Minor" made its debut in 1935, while working on his score for "Romeo and Juliet", one of the most brilliant and theatrical ballet scores in existence. . At times echoes of memorable themes from this score could be heard in this extremely demanding concerto, but there was more. And the boyish and slender Lozakovich unleashed everything in this piece which is, without a doubt, a furious workout for the soloist as well as for the entire string section of the orchestra. The string section has gone from bowed to plucked countless times in a work that moves seamlessly, yet thrillingly, from tonal to atonal passages, and even has a wild violin sequence accompanied by castanets.
Throughout this demonically difficult piece, immense demands are placed on all sections of orchestra and soloist as exquisite melodies are juxtaposed with moments of great drama and extreme virtuosity. The impeccable connection between the conductor, Lozakovich and the orchestra was palpable.
Violinist Daniel Lozakovich performs with the Chicago Symphony Orchestra at Orchestra Hall on April 14, 2022. (Photo credit: Todd Rosenberg)

The second half of the concert was devoted to Igor Stravinsky's legendary ballet, "The Firebird". It had its triumphal premiere at the Paris Opera in 1910, where it was performed by Diaghilev's Ballets Russes with the illustrious dancers Tamara Karsavina and Michel Fokine.
Although not as revolutionary as "The Rite of Spring", which caused a stir when it debuted in Paris three years later, "Firebird" is a work of great beauty and magic, from the slow rumble to the suspenseful development of its opening. , to its moments of intricate syncopated rhythms, its blend of nature sounds – from swirling winds to the flight of birds – to its overall fairy-tale aura and dreamy melodies.
Moreover, the complete instrumentation of the work – from strings to winds, brass and timpani, as well as two harps, celesta, piano, bells, tambourine, cymbals, triangle, xylophone and more – brings great originality and madness. drama to musical. narration. Makela led with all the grace of a dancer and was in perfect control of it all. I only hope that he returns soon to lead the CSO despite what must be his busy schedule as conductor and artistic advisor of the Oslo Philharmonic Orchestra and musical director of the Orchester de Paris.
As I left Orchestra Hall, I found myself thinking about the subtle and totally unintended irony of certain aspects of this concert planned long before the nightmare in Ukraine began.
Not only did I hear echoes of the very different choices and fates of Prokofiev and Stravinsky – the two musical geniuses who had their own problems and answers to the Soviet Union. But watching Makela and Lozakovich, the two young artists born in Scandinavian countries, reminded me of the serious concerns that Finland and Sweden now have about their Russian "neighbor".
Follow Hedy Weiss on Twitter: @HedyWeissReview
---